Used Boats:
50
Adverts Displaying:
21
-
30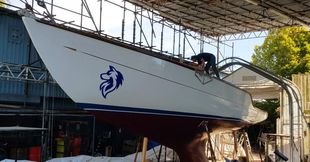 HISTORY & DESCRIPTION: HUFF of ARKLOW, built in 1951 still looks remarkable nearly seventy years after she was first designed by Uffa Fox for his friend and keen racer Douglas Heard. Douglas was a retired RAF pilot and the stepped sheer is believed to have been incorporated into the design to assist getting aboard when alongside. Douglas wanted a fast, weatherly racer capable of accommodating a crew of six. Essentially the design is a scaled-up Flying Fifteen, also designed by Uffa in 1947 and still raced competitively in World Championships. Probably the most famous Flying Fifteen ...
read more
Year:
1951
Length:
44' 6"
Location:
Somerset UK
Price:
£65,000 Tax Exempt

View Details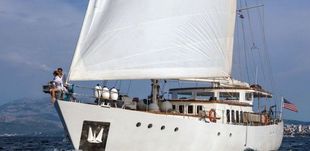 CONSTRUCTION & DESCRIPTION: THURAYA (Ex: ROSA) Length Overall: 78 ft 23.90 m. Length Waterline: 68 ft 20.80 m. Breadth: 25 ft 07.65 m. Draught maximum: 9 ft 02.70 m. Gross Registered Tonnage: 113,33 Net Registered Tonnage: 61,74 Building Yard Aegean Yacht Builders, Bodrum, TURKEY Year Built: 2008 Class CE certified category "B" Hull Material Steel (Grit blasted, epoxy coated) Superstructure Steel(Grit blasted, epoxy coated) Decks Iroko Interior and all accommodation spaces and furniture in polished cherry wood, Interior flooring solid oak parquet Bathroo...
read more
Year:
2008
Length:
80'
Location:
Mugla Turkey
Price:
€725,000 Ex. Tax

View Details
New Listing – 164ft. TRADEWIND SCHOONER – SUCCESSFUL CHARTER BUSINESS – Lying: Sweden Guide: £1,500,000 BROKERS NOTE: One of the finest Tall Ships of her size, the LADY ELLEN represents a realistic and eminently practical modern version of her Edwardian counterpart. Licensed for 100 guests, with ongoing high-end weddings and events with overnight accommodation for 27 guests plus crew. A rare opportunity to acquire a well maintained and fitted-out vessel offering many commercial opportunities. Overall Length: 164ft. overall (128ft on deck) Waterline: 118ft. B...
read more
Year:
1983
Length:
164'
Location:
Stockholm Sweden
Price:
£1,500,000 Tax Not Paid

View Details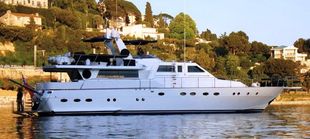 BROKERS NOTE: A professionally maintained and crewed luxury Italian motor-yacht located on the popular and sought-after island of Mallorca. Refitted in 2016 to provide high-end, air-conditioned, ensuite accommodation for ten guests plus crew. Beautiful deck saloon, leisure and sun decks with jacuzzi. Stylish, express motor-yacht designed by the famous naval architect Franco Boretti. MCA coded for charter use. Seriously for sale – offers invited. BLUE SONG – HISTORY & DESCRIPTION: Designed by the respected naval architect Franco Anselmi Boretti as a special c...
read more
Year:
1984
Length:
75'
Location:
Barcelona Spain
Price:
€950,000

View Details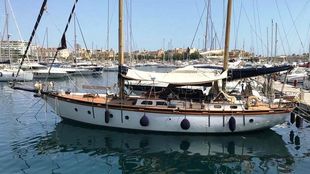 HISTORY & DESCRIPTION: Designed by the legendary Alan Pape, this 50ft Cutter Rigged Ketch was built by Frank Curtis & Pape Brothers Ltd in Looe Cornwall under Lloyds survey and was originally commissioned in 1975 as SUMMER WIND for John Radford of Newstead Abbey, Nottinghamshire. Originally stationed in Lymington and then in later ownership renamed KEFFY. In 2001 she underwent a three year £250,000 complete refit. The interior refitted with solid cherry, having fielded panelled doors and beautiful curved fiddle rails. In 2004 KEFFY was selected to participate in the Classic Bo...
read more
Year:
1975
Length:
50'
Location:
Malta
Price:
£175,000 Tax Exempt

View Details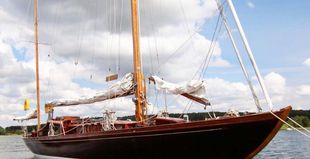 HISTORY & DESCRIPTION: Ake Ameen is a highly respected Swedish yacht designer working in the first half of the 20th Century in Stockholm. DIANA was designed by Ake Ameen in 1937 for Sigurd Golje of Stockholm. DIANA remained in Sigurd's ownership for nearly four decades sailing Swedish waters. During the 1970s and 80s, DIANA was in the ownership of Sven Winquist in Sweden. The current owner of some 5 years has continued a careful maintenance programme retaining the originality and period style of the vessel. Work since 1988 includes: 1988 Replace approximately 1 metre ...
read more
Year:
1937
Length:
45'
Location:
Sweden
Price:
£42,500 Tax Not Paid

View Details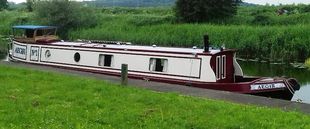 HISTORY & DESCRIPTION: Narrowboat AEGIR was built in 2009 on the banks of the River Trent and named after the tidal bore that sweeps in on Spring Tides. Built by Anchor Marine Engineering, to the Eastwood design she is a bespoke build, featuring curved lines on the cabin and gunwales. Other features include large rear hatch to make traditional / semi-traditional style as required, wood-lined all steel doors and side hatch for security. Bow flares and curved bow lockers. To avoid drafts the cabin ventilation is via ducted channels to the cabin. Also to the engine room to avoid water...
read more
Year:
2009
Length:
51'
Location:
South Yorkshire UK
Price:
£55,000 Tax Paid

View Details
HISTORY & DESCRIPTION: MANISHI was designed and built for Major Iver Mackenzie Bellairs of Keyhaven by Elkins of Christchurch in 1936, registered in Poole, Official No. 166938. During the war J W Ewen of Southgate, London acquired MANISHI keeping her in Poole Harbour. In 1955 Stanley Parkinson of Bracken Lodge, Shadwell, Yorkshire bought the vessel selling to James Isherwood of Walton on Thames in the late 1950s. Gordon Whiting of Eltham, London became the next registered owner in 1965 moving MANISHI to a mooring at Walton on the Naze. Gordon had previously owned the Elkins...
read more
Year:
1936
Length:
36'
Location:
Kent UK
Price:
£12,000 Tax Exempt

View Details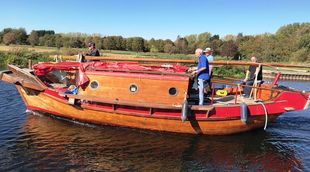 HISTORY & DESCRIPTION: SUN FUNG was built in 1965 by Fam Lam Kee in Hong Kong to carry cargo in the harbour and is an authenticated traditional Chinese Junk to a design by W Gerard Daroux. Imported to the UK in 1967 as deck cargo by SUN FUNG is now a fascinating survivor of the once numerous junks plying Hong Kong waters. She remains in an unconverted state with the original hold ideal for conversion for living aboard, floating holiday home or cruising boat. Current ownership some 18 years. Last surveyed in 2017. Underwater hull recently blacked. Burmese teak hull and decks and Y...
read more
Year:
1965
Length:
30'
Location:
Cambridgeshire UK
Price:
£15,000 Tax Exempt

View Details
HISTORY & DESCRIPTION: The South Coast One Design needs little introduction as one of the most successful yacht designs of the mid 20th Century. In 1955 a group of Island Sailing Club members approached Charles Nicholson to design an inexpensive fast one-design cruiser/racer. The first six boats built by Lallows of Cowes all competed in the 1956 Round the Island Race winning the first six places overall. The SCOD, as they became known, proved to be all that was wanted as a one-design and in all, over a period of about fifteen years, 106 boats were built by various boatyards, mostly on...
read more
Year:
1962
Length:
26'
Location:
West Sussex UK
Price:
£14,000 Tax Exempt

View Details